DESCRIPTION ALBUM
The Album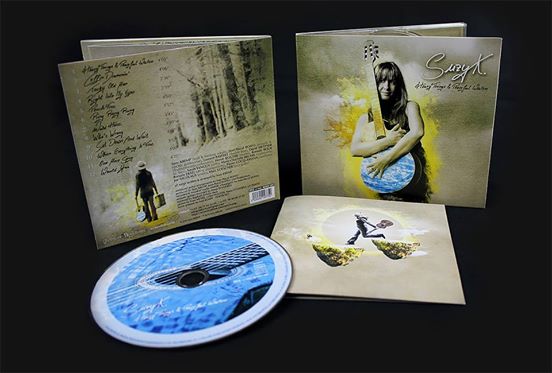 Suzy K. "Heavy Things & Peaceful Waters"




KREMP-BOFFO / MAYA Records / MUSEA Records






Description:
CD audio digipack, 12 tracks (45 min) + booklet 24 pages
including all lyrics, illustrations + French and German translations



Genre:
acoustic folk-pop

 


Tracks:
   1)          HEAVY THINGS & PEACEFUL WATERS    4:03
  2)          COFFIN DRUMMIN'  4:06
  3)          TACKY OLD MAN   2:36
  4)          RIGHT INTO MY EYES  2:59
  5)          PEACH TREE   3:50
  6)          RING RANG RUNG   3:57
  7)          WILD HORSE    3:45
  8)          WHO'S WRONG   3:59
  9)          SIT DOWN AND WAIT   4:07
10)          WHEN EVERYTHING IS FINE   3:52
11)           ONE MORE SONG   3:00
12)          WOULD YOU  4:20

Biographie:
Suzy K. is a German singer/songwriter having lived and worked in France as a musician for almost 20 years.
After performing solo for a couple of years, she decided to arrange her songs by adding different acoustic instruments in order to record her first solo album in collaboration with composer and guitar player Jean-Pascal BOFFO, sound engineer at Studio AMPER (Metz, France).
Based on the new arrangements, saxophones, double bass, cello, violin, piano and percussions are delicately added by a dozen gifted musicians and take the listener on an acoustic journey, somewhere between folk, pop, jazz and blues, including ethnic sounds and even classical influences.
With a mature and temperate voice Suzy whispers, sings, laughs and cries her mostly autobiographical tales about the unavoidable correlation of life's "Heavy Things & Peaceful Waters".
S

imilar artists:
RICKIE LEE JONES, TORI AMOS, JONI MITCHELL, CAROLE KING, TRACY BONHAM, NORAH JONES, AMBER RUBARTH, LISA HANNIGAN ....

Musicians:
Suzy KREMP (lead & backing vocals)
Jean-Pascal BOFFO (acoustic & electric guitars/sitar)
Laurent PAYFERT (double bass)
David METZNER (drums/percussions/balafon)
Hervé ROUYER (drums)
Romain BOUR (el. bass)
Sarah TANGUY (cello)
Marie-Charlotte BRUERE (violin/viola)
Romain FRATI (string arrangements)
Pierre COCQ-AMANN (sax/flutes)
Joe NICOLAUS (piano)
Marc LOESCHER (jazz guitar)
Credits:
all songs written & arranged by Suzy KREMP
additional guitar arrangements by Jean Pascal BOFFO
produced by Suzy KREMP, Jean-Pascal BOFFO, Denis MEYER
recorded & mixed at Studio AMPER, Clouange(F) by Jean-Pascal BOFFO
acoustic guitars recorded by Manu D'ANDREA
mastered by Raphaël JONIN, Paris
photos by Yvon MEYER, Gilles HOUVER, Manu D'ANDREA, J.P. BOFFO
cover artwork by Fred KEMPF pour FK WEB.NET
released by MAYA Records
distributed by MUSEA Records

(c)  2014 Suzy KREMP / (p)  2014 Suzy KREMP



-->>

        Crowdfunding Page
                    

=

external link (French/German)